Conferences have completed this year. More information will appear soon about our 2017 events.
The 2016
Workplace
Mental Health Program
In conjunction with The Mental Health in the Australian Workplace Conference
Sydney
Thursday 13th october
Rydges, World Square
Melbourne
Thursday 6th October
Rydges, Exhibition Street
Brisbane
Thursday 20th October
Pullman, King George Square
The day is split into three workshops that focus on Risk, Strategy and Implementation.
In these workshops you will:
Andrew Douglas
Principal, Workplace Relations
Practice Group Head (Vic)
M+K Lawyers
Vicki Irvine
Former Wellbeing & Mobility Manager,
King & Wood Mallesons and Founding Member of Resilience@Law
Mark Dobson
Well-being Coordinator
Fire & Rescue NSW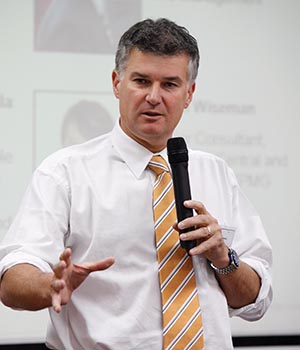 Simon Brown-Greaves
(Program Facilitator)
Director
FBG Group
Discover how to successfully implement your strategy to make substantial positive gains in individual and organisational mental health
Adopt a strategic approach to tackling organisational wellbeing and find out why it is superior to many of the current approaches organisations take
Work through evidence-based approaches to identifying your mental health risks
Learn about well-being risk and what to do to minimise the risk of psychological injury across the organisation
The increasing prevalence of mental health issues throughout Australia's adult population has heightened the need for Australian organisations to refocus on their duty of care to all employees.
The Workplace Mental Health Program offers human resources practitioners and professionals the opportunity to benchmark their organisation's current approach to employee support around workplace wellbeing. Moreover, attendees will simultaneously develop their knowledge and skills in implementing a wellbeing framework that delivers significant improvements in organisational culture.
The day will be uniquely tailored for each participant based on how their organisation is tracking with regard to mental health policies and practice. Through a series of collaborative peer-led conversations, attendees will quickly build a tailored wellbeing action-plan specifically customised for their organisation.
Understand what resources are available to you
Patrice O'Brien
beyondblue
Melbourne 6th October
Mark Leopold
beyondblue
Sydney 13th October
Michael o'hanlon
beyondblue
Brisbane 20th October